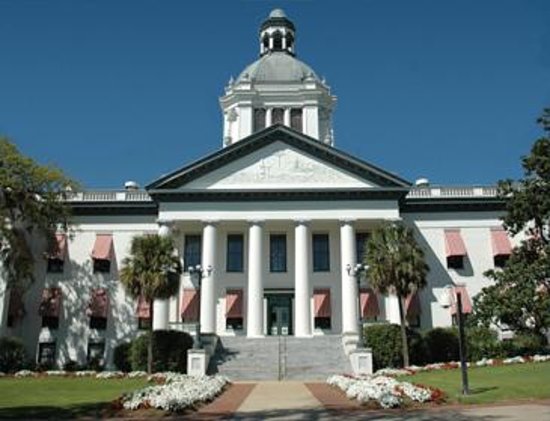 Some people believe that money makes the world go 'round; others say it's politics. We are all subject to the rules and regulations determined by elected/appointed or volunteer decision makers. From our local neighborhood HOA's and district school boards to our county commissioners and representatives, all the way up to our Governor and his cabinet, through to the President of the United States, our lives are affected by the decisions these people make.
Here at home, our Florida Legislature is comprised of the Senate and the House of Representatives and includes 160 State Legislators (120 in the House and 40 in the Senate). Their primary purpose is to enact new laws and amend/repeal existing laws. They are also tasked with proposing new amendments to the Florida Constitution and passing a state budget. They meet for 60 days in the Florida State Capitol building in Tallahassee and this year that session began on March 5th and ended on May 4th.
The 2019 Florida legislative session, the first for Governor Ron DeSantis, saw more than 3,400 bills filed, with 197 passing both chambers of the Legislature before it adjourned. Bills covered everything from abortion to fracking and plastic straw use, to texting while driving and the regulation of vegetable gardens. There were several that could/will impact our industry and/or employees and I've included some below.
Mr. Dale Calhoun, Executive Director for Florida Natural Gas Association, deserves our gratitude and thanks for the tireless work he did all session to keep us abreast of the issues. He simultaneously defended our industry and positions while championing programs that would support us and ultimately, our customers.
Highlights
Budget (passed): The largest budget in Florida's history. Sets aside $91.1 billion for spending on education, health care, affordable housing transportation, environmental, school safety programs and other expenses. Includes an increase of $243 in per-pupil education spending. Keeps the state-funded tourism agency Visit Florida running through 2020 with $50 million for the next fiscal year. Sets aside $500,000 for a permanent memorial in honor of the 49 victims of the 2016 Pulse nightclub shooting in Orlando and $15 million for municipalities and counties impacted by Hurricane Michael along with Florida Job Growth Grant Funding for $40 million. (SB 2500)
Fracking (failed): Prohibited all forms of fracking, a process where water, sand and chemicals are injected underground to loosen, or fracture, rock layers in the crust to release trapped natural gas and oil. (HB 239 / SB 146)
State Hemp Program HB1020- (passed): Authorizes the Department of Agriculture and Consumer Services to administer a state hemp program and sets up rulemaking and a board of experts to develop the system.
Hurricane Michael Expenses (passed): Refund for taxes paid on fuel for agricultural shipments and debris removal between Oct. 10, 2018 and June 30, 2019 in Bay, Calhoun, Franklin, Gadsden, Gulf, Holmes, Jackson, Leon, Liberty, Okaloosa, Wakulla, Walton and, Washington counties. Farmers could get refunds for repairs to buildings damaged by the storm. (HB 7123)
Multi-use Corridors of Regional Economic Significance (passed): Extends the SunCoast Parkway from Tampa Bay to the Georgia border, a new corridor from Polk to Collier counties, and extend the Florida Turnpike west to connect to the SunCoast. (SB 7068)
Renewable Energy (failed): Directs state to develop unified statewide plan to generate state's energy from renewable sources by specified dates; requires state and public entities to cooperate as requested; provides plan requirements; requires office to submit plan and updates to Governor and Legislature. (HB 1291 / SB 1762)
Underground Power Lines (passed): Creates a new process for utilities to pass along costs to customers for storm protection projects, such as installing underground power lines. (SB 796)
Texting While Driving (passed): Makes driving while texting a primary offense, meaning law enforcement can stop motorists for just that offense. (HB 107) Tax Package (passed): Contains provisions for tax relief and changes to tax policy. Includes a five-day back-to-school and seven-day disaster-preparedness sales tax holiday, reduces the sales tax on commercial leases from 5.7 to 5.5% and tax relief for the agricultural industry impacted by Hurricane Michael.
Governmental Powers (failed): Restricted municipal authority to annex property in another municipality; to establish a minimum age for the purchase of nicotine products; to levy taxes on nicotine products; to regulate the use of single-use plastic straws and sunscreen; to regulate generators at gas stations and to regulate assisted living facilities generators and air conditioner settings.
If you want to learn about the session, including which bills have been approved by the Governor, visit http://www.leg.state.fl.us