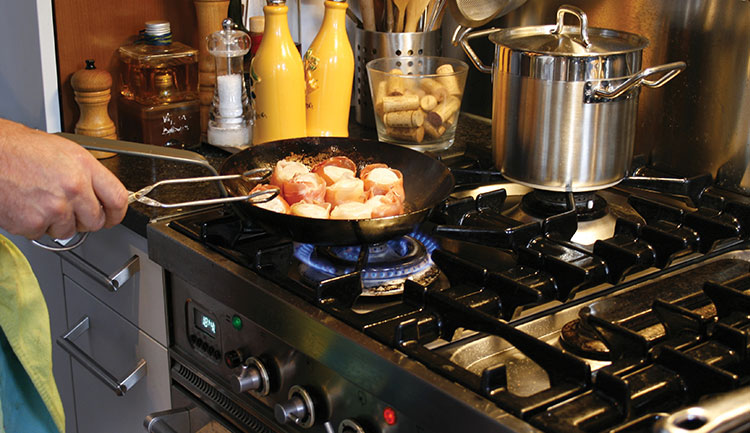 More than 9-out-of-10 chefs prefer cooking with natural gas. So do 75 percent of homebuyers, according to the National Association of Home Builders. And while almost everyone who favors natural gas ranges over electric will tell you it's all about "performance", here's a quick look at what that actually means. Plus, two additional advantages that even the most unparticular of cooks can appreciate.
1. Superior Performances
Whether you're an everyday cook or paid pro, higher performance equipment means better-tasting results and a smaller margin for error. When it comes to precision capabilities and temperature control—two key ingredients for mastering any meal—natural gas ranges are the crème de la crème. They also provide even heat, another increaser of culinary success, and instant on/off, which eliminates the need to shuffle pans. But these are only a few examples of how natural gas stovetops enhance the cooking experience in any kitchen.
2. Saves You Money In The Long Run
The typically higher purchase price of natural gas models tends to dissuade a fair number of consumers. What they probably don't know, however? Natural gas ranges are more efficient and cost up to half as much to operate, so they end up paying for themselves through the savings they accumulate in monthly energy costs. Some natural gas utilities even offer rebates on your appliance purchase to help you start saving right away. (Scroll down for more on available rebates.)
3. Stays On During A Power Outage
Some power outages are due to severe weather. Others randomness. Either way, unless your home or business is equipped with a natural gas stovetop, you'll be out of luck. In fact, not only is natural gas service as reliable as it gets, but natural gas cooktops continue to operate automatically—even if the power goes out.
Get Rebates On A New Natural Gas Range!
You may qualify for up to a $200 cash rebate from Florida Public Utilities when you include a new natural gas range/cooktop. For more information on natural gas ranges or virtually any other energy topic, visit the Energy Experts at Florida Public Utilities. Plus, don't forget to see how you can conserve energy (and get cash back!) with natural gas appliances.