Did you know that water heating is the second largest energy cost for the average Florida home, topped only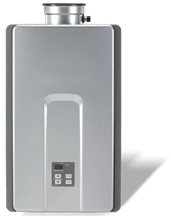 by air conditioning? Even with that stat aside, though, it's pretty easy to see why selecting the best water heater is so important. Whether you're looking to say "goodbye" to cold showers, or "hello" to substantial savings, here are three reasons why you should look no further than an ENERGY STAR® qualified natural gas tankless.
One: Cost-savings.
Up to 50% in monthly water heating energy savings, to be more specific. How and why? Well, while traditional tank-style water heaters use energy to heat and store water, even when you don't need it, natural gas tankless models work solely on-demand. This translates to far less energy waste, which means lower energy bills. Plus, factor in a potential FPU rebate of up to $675 on your appliance purchase, and start saving even sooner!
Florida Public Utilities: ONE Year
Therms
Natural Gas
Gallons
Propane
kWh
Electric
Natural Gas
Savings Over
Electric
Natural Gas
Savings Over
Propane
Tank Water Heater
160
$228.41
173
$473.47
3159
$355.23
35.70%
51.76%
Tankless Water Heater
110
$157.03
119
$325.51
2937
$330.18
52.44%
51.76%
Furnace
50
$71.38
54
$147.96
1465
$164.72
56.67%
51.76%
Range
25
$35.69
27
$73.98
396
$44.52
19.84%
51.76%
Dryer
45
$64.24
49
$133.16
1209
$135.94
52.74%
51.76%
TOTAL
$556.74
$1,154.09
$1,030.60
45.98%
51.76%
Two: Performance.
On top of being extremely efficient and cost-effective, the comfort and performance of natural gas tankless water heaters simply can't be beat. In fact, not only do natural gas tankless water heaters work solely on-demand to eliminate standby energy loss, but this very technology also enables them to provide an endless supply of hot water.
Three: Convenience.
Thanks to their small, compact design, natural gas tankless water heaters provide up to 16 square feet of space-savings. They can also be mounted on your wall, and installed indoors, as well as out, which gives you even more of your home back. Another bonus? Since they have an appliance lifespan of 20+ years, you won't have to go through the hassle of replacing your water heater for at least another two decades.
For more information on natural gas ranges or virtually any other energy topic, visit the Energy Experts at Florida Public Utilities. Plus, don't forget to take a closer look at how you can conserve energy and save money with natural gas appliances.