Florida is a hot, humid climate. For those of us in the sunshine state, these high humidity levels make it more difficult to keep our homes dry. Yet it's important to eliminate moisture from the home in order to prevent mold. Here are three tips to protect your house from mold.
Tip 1 - Watch Where You Paint & Wallpaper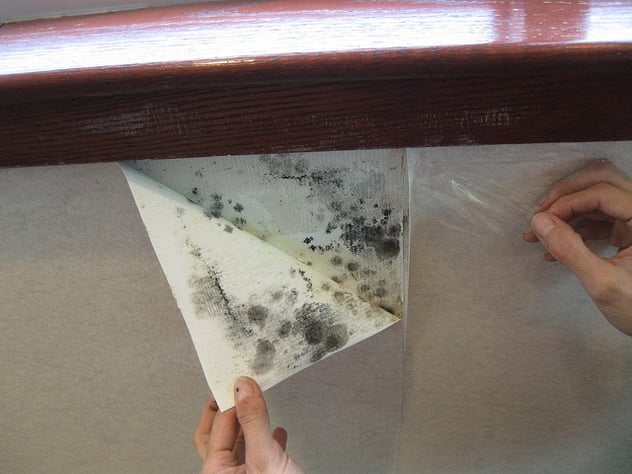 The first tip to protect your home from mold is to never use vapor retardant or vapor barrier paint or wallpaper on the inside of an exterior wall. Any moisture that gets into the walls of your home risks getting trapped behind this paint – and especially behind wallpaper used specifically to block moisture. This means that (contrary to their purpose), using "moisture barriers" in the wrong place can result in even bigger mold issues.
This sort of design flaw earned Celebration, Florida national headlines in 2016 when many of the town's buildings to be "ruined by mold and shoddy construction". In this case, the mold damage was largely due to lining walls with nylon. This was a "disastrous, moisture-trapping material choice for the Florida climate," according to one article.
Tip 2 - Inspect Your Home Twice A Year
The second tip to keeping your house mold-free? Inspect vulnerable areas. Doing a quick inspection of your home's exterior twice a year can be key for protecting it from mold.
But where do you look? Since windows and doors are the primary sources of leaks, start there. Also examine the caulked areas around them. Furthermore, if your house is cement block with stucco, make sure to look for cracks in the stucco. And last but not least - make sure the ground around your home is sloping away from your house in order to divert rainwater.
Tip 3 - Check Your Vents
The third tip to protect your home from mold is to check your vents. It's especially important to make sure your kitchen and bathroom exhaust vents are working properly. In other words, to make sure the air removed by these vents is going outside your house, where it belongs. Not into your attic or crawl space.
To check this, you will have to go into your attic or crawl space. That way you can confirm that your ductwork is sending the air from the fan all the way to the outside of your house. But what if you do notice air in your attic or crawl space, on the other hand? It means that, Houston, you have a problem.
Bonus Tip!
Also, the level of humidity in your home is another factor of mold. (You can check your current humidity, in most cases, by looking at your thermostat or barometer.) As a rule of thumb, try to keep indoor humidity between 30- 60%. Generally, the closer you are to 50% humidity, the more comfortable your home will be.
However, if your humidity is higher than 60%, watch out! This is most likely a problem with your air conditioner. And since using your air conditioner is the best way to control indoor humidity, a faulty AC could put your home at risk for more than low comfort and sky-high energy bills - contributing to mold damage too!
Get Mold-Fighting (Energy-Saving) Rebates
Now here's some good news. If it is time to replace your air conditioner, Florida Public Utilities offers energy-efficiency rebates that can save you money on your appliance purchase. Plus, you can count on FPU to provide expert appliance product advice and help with installation services. So finding the right appliance will be quick and easy!
Learn More
Remember! When it comes to preventing mold, offense is your best defense. For questions about air conditioners and other related energy topics, contact the energy experts at Florida Public Utilities.