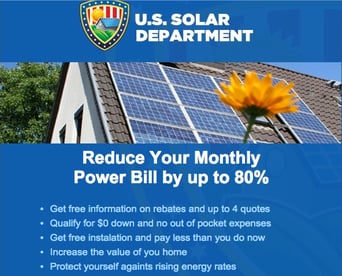 You may have received an advertisement like this or similar. There are others who use our state government rather than the federal government to hide behind. There is no U.S. Solar Department that is related to the government. Some companies' use these practices to give their business a look of being connected to the government hoping to earn credibility. This particular ad may be a total energy/utility scam. Some like this are fronts for a real business that uses questionable marketing practices.
My advice would be to proceed with extreme caution. Check out a company on the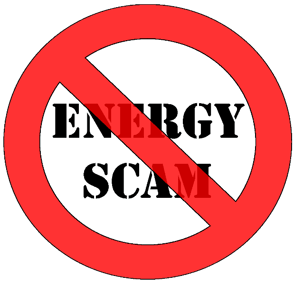 Better Business Bureau or on MyFlorida.com to verify credibility. Unfortunately, many people are willing to take advantage of you for money.
Recently, a neighbor of mine paid exorbitant rates for energy products sold by one of these companies acting as if they are carrying out a State of Florida Energy Conservation Program. For example, I paid $300 after utility rebates to upgrade my ceiling insulation from R-18 to R-30. For the same thing, my neighbor paid over $11,000!
We care about you! Do not get caught in an energy/utility scam. Before making a huge energy investment why not contact your energy experts at Florida Public Utilities for reliable, straight forward energy truth, www.fpuc.com/energyexperts.
---