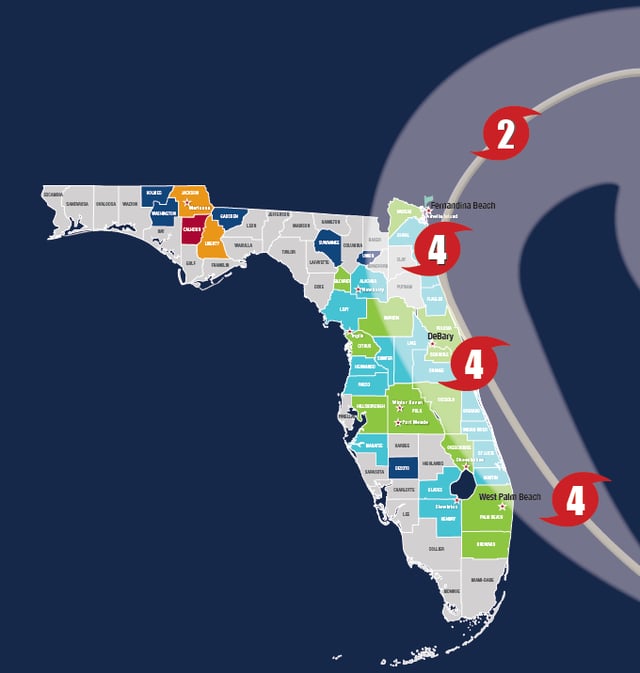 The devastation left in the wake of Hurricane Matthew was truly heartbreaking. Perhaps what's even more horrifying is that it could have been worse, much worse. In fact, a slight westward shift in the path of Hurricane Matthew, as it approached the coast of Florida, was the saving grace that spared South Florida, and its 6 million residents from untold destruction. Although the impacts of Hurricane Matthew could have been much more detrimental to Florida, the threat of the hurricane sent a loud and clear message to business owners and facility managers across the state about the importance of evaluating how resilient their structures are to natural disasters.
Planning for devastating events, such as hurricanes, can be unnerving, but increasing your facility's resiliency in the face of such events can be a strategic component of a robust business operating philosophy. Florida Public Utilities Company can serve as a resource in helping business owners and facility managers to better assess options that use natural gas to ensure continued operations during power outages caused by natural disasters, like hurricanes.
There are essentially two strategic directions business owners and facility managers can take when leveraging natural gas as a means for increasing a facility's resiliency to hurricanes:
Option 1
The first option would be to take the traditional approach of installing a natural gas generator that would automatically and instantly supply power should electricity from the power grid be disrupted. This is a particularly good option for restaurants and grocery stores that are seeking to protect their businesses from power interruptions and wish to increase their ability to readily recover use of their assets.
Option 2
The second option would be to install a Combined Heat and Power (CHP) system that would continuously generate electricity and simultaneously produce hot water at all times, not only during periods of power grid disruptions. Installing a CHP system negates the need for an emergency generator, and can also lower energy-related operating costs while providing the flexibility of operating independent of the electric power grid.
There are several types of CHP technologies and systems that are available, including Reciprocating Engines, Microturbines, and even Fuel Cells. All of which use natural gas as the primary fuel input and can be engineered to satisfy the specific electric and hot water needs of any commercial facility.
Contact a Florida Public Utilities Company representative to determine what options make the make the most sense for your facility and make your business resilient in the face of tropical storms, hurricanes and power disruptions.