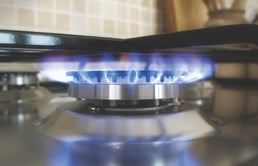 Unbeatable performance is what makes natural gas ranges preferred by the large majority of professional chefs and everyday cooks alike. However, when it comes to keeping the equipment operating at its full potential, part of it's up to the appliance owner. Here are simple steps you can take to keep your natural gas stovetop in peak condition. Not to mention, save energy every time you cook!
Clean your burners according to your appliance manual

.
While performance features, like enhanced precision and even heat, are common to all natural gas ranges—just like the fact that the cleaner they are, the better they operate— not all models are exactly alike. That's why it's imperative to not only read your manufacturer's instructions and learn how to properly clean and care for your specific type of cooktop burners, but remember to do so as often as your manual recommends.
Keep your eye on the flame.
A visible blue flame is perhaps the most distinguishable quality that separates natural gas ranges from all the others. However, the flame can also hold telltale signs that something isn't right. If you notice your flame is abnormally high (especially if it hits the grates above the burner), or your flame is a non-blue color, your fuel ratio is likely compromised. In such case, turn off the appliance and do not try to tinker with it or your gas supply. Instead, call a trusted service technician, or your local natural gas utility, and let a trained professional perform any necessary adjustments.
Don't neglect your range-hood!
The hood is an important part of your range because it absorbs grease, moisture, cooking odors, and other stuff you don't want hanging around in your kitchen. However, maintenance-wise, range-hoods tend to be lower on the totem pole than they should be. To keep yours primed for effective ventilation, be sure to clean metal with water and ammonia, or an appropriate household cleaner. Also, don't forget to clean your filter, and replace, as needed.
Need A New Natural Gas Cooktop or Range?
You may qualify for up to a $200 rebate from Florida Public Utilities with the purchase a new natural gas range/cooktop. Looking to upgrade? You can receive a rebate of up to $100! To learn more about FPU natural gas rebates, click below.
For more information on natural gas ranges or virtually any other energy topic, visit the Energy Experts at Florida Public Utilities. Plus, don't forget to take a closer look at how you can conserve energy and save money with natural gas appliances.