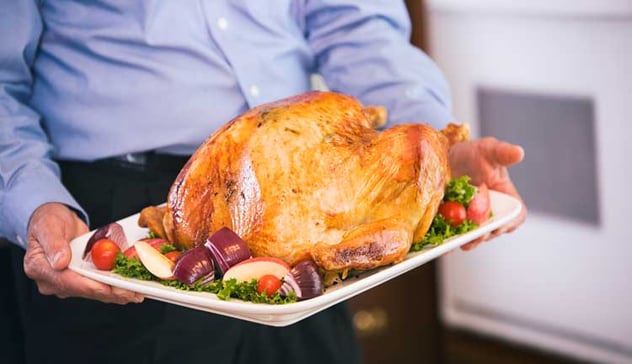 Ah, the holiday season. For many of us, it conjures up the smell of fresh-baked pies, visions of crowded kitchens, and memories made around the fireplace.
However, nothing turns "the best of times" into "the worst of times" faster than a flopped holiday feast—or way worse—an injured relative. As part of FPU wishing you a safe and enjoyable holiday season, here are a few ways to maximize holiday cooking success, as well as safety reminders to help you avoid the recipe for disaster.
Kitchen Pointers
1. Upgrade To A Natural Gas Range/Oven
96% of professional chefs prefer cooking with natural gas, and for the everyday chef the performance advantages of a natural gas cooktop can be even better. Why? One word: precision. Natural gas gives you greater control of temperatures. Not to mention, even heat and instant on/off—all working together to ensure fewer blunders and better-tasting results. Added bonus? On top of moister heat for a more succulent turkey, a natural gas oven will also keep your kitchen cooler. Perfect for when it's crammed with relatives!
2. Butter Your Bird.
When it comes to fixing turkey, juiciness is key. To seal in moisture and prevent toughness, first blot the skin of the turkey to make sure it's dry. Then, brush the entire bird with a layer of butter or olive oil for maximum moistness. 

3. Cool Before You Carve!
Another step to ensure juiciness? Not carving your turkey prematurely, which sacrifices some of its flavor. After your turkey is done, be sure to tent it loosely with tin foil and let it cool for at least 15 minutes to lock in fresh-out-of-the-oven goodness.
Frying Your Turkey? Important Safety Reminders
Make sure your turkey is totally defrosted and dry. Putting any water in hot oil can cause the oil to erupt, resulting in potential injury as well as a fire hazard
Make certain the oil is not too full, allowing for the displacement caused by the weight of the turkey
Make sure your fryer is in an open space away from children, pets and anything flammable. That includes alcohol, so be sure to save any cocktails until after the turkey is done and the fryer is cooled off
If you have an incident, always use a fire extinguisher rather than water to put the fire out
Always follow the manufacturer's instructions on your fryer, fireplace and other household appliances
Tips For Fireplace Safety
Do not leave fireplaces unattended, especially when children are present
For indoor wood-burning fireplaces, use doors or a fire screen to keep the flames in place
Always make sure a fire is totally out before leaving the house or retiring for the night
For outdoor fireplaces and fire pits, make sure the fire is totally extinguished before you leave it unattended. Start by dousing with water, stirring and dousing again
Consider the superior safety and convenience of natural gas indoor/outdoor fireplaces, fire pits, fire tables, fire logs, tiki torches and more—and enjoy flames that turn on and off with the touch of a button
Rebates To Help Get Your Home Holiday-Ready!
Many natural gas providers offer rebates for including natural gas cooking ranges, water heaters and other natural gas appliances. Visit the Energy Experts at Florida Public Utilities for more on how you can conserve energy and earn rebates with natural gas!