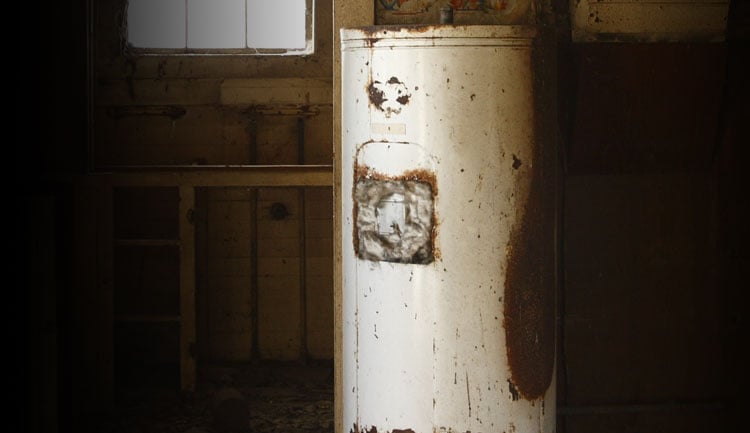 While most people don't think of a new water heater as a "fun" or "preemptive" purchase, replacing your old water heater before it breaks can save you from serious home flooding, spiking expenses and a long list of other undesirable outcomes. So how do you know when it's time to say "goodbye" to your current water heater, and "hello" to a new unit? Stay on the look out for three common signs that your water heater is on its last leg. (Plus, three great reasons to go natural gas tankless!)
1. Your water heater is more than 10 years old
Most water heaters last around 10 years, 15 years tops. If your traditional tank-style water heater falls within this age bracket, it could be nearing its expiration date.
Next Time: Get double the appliance lifespan with a natural gas tankless! Since natural gas tankless water heaters have a whopping twenty-plus year life expectancy, you can enjoy the next two-or-so decades without having to worry about your next replacement.
2. Your water isn't hot enough (or seems otherwise "off")
Is there no or little hot water? Does your water have a rusty color, abnormal smell or metallic taste? Alone or together, these could all be telltale signs that your water heater has reached the end of its days.
Next Time: Safeguard against cold showers completely with a natural gas tankless water heater. Thanks to on-demand water heating technology, it provides an endless supply of hot water along with the best-possible energy-efficiency.
3. Your water heater is leaking
Leaking around your water heater is typically a surefire sign that your water heater has got to go, but since even slow drips and small leaks can quickly escalate into causing major home damage and flooding, it's also a red flag that commands immediate action. If you notice any water puddles or leaks around your water heater, it's recommended that you disconnect the electricity or turn off the gas to the unit as soon as possible, and remove the appliance once its surface is cool enough to do so.
Next Time: Avoid the possibility of leaking altogether with a natural gas tankless water heater. It heats water on-demand instead of storing hot water in a tank, giving homeowners a compact, space-saving design along with zero risk of flooding.
Notice any of the signs above?
While certain cases may be indicative of a more simple or fixable issue, please contact your local utility company or a plumbing professional for specific advisement.
Why Buy Before It Breaks?
In addition to preventing everything from catastrophes (like ruined flooring a la flooding) to inconveniences (like cold showers), replacing your old water heater before it breaks can save you a great deal of expense and hassle. In fact, not only will you most likely spare yourself the cost of mounting repair bills and inflated energy costs, but taking proactive measures will give you the time you need to explore your appliance options—and choose the best long-term solution rather than jumping on the fastest fix.
Save Right Away With Water Heater Rebates!
While availability and eligibility may vary, Florida Public Utilities offers a potential rebate of up to $675 for including a natural gas tankless water heater. Visit the Energy Experts at Florida Public Utilities for more on how you can conserve energy and earn rebates with natural gas appliances.