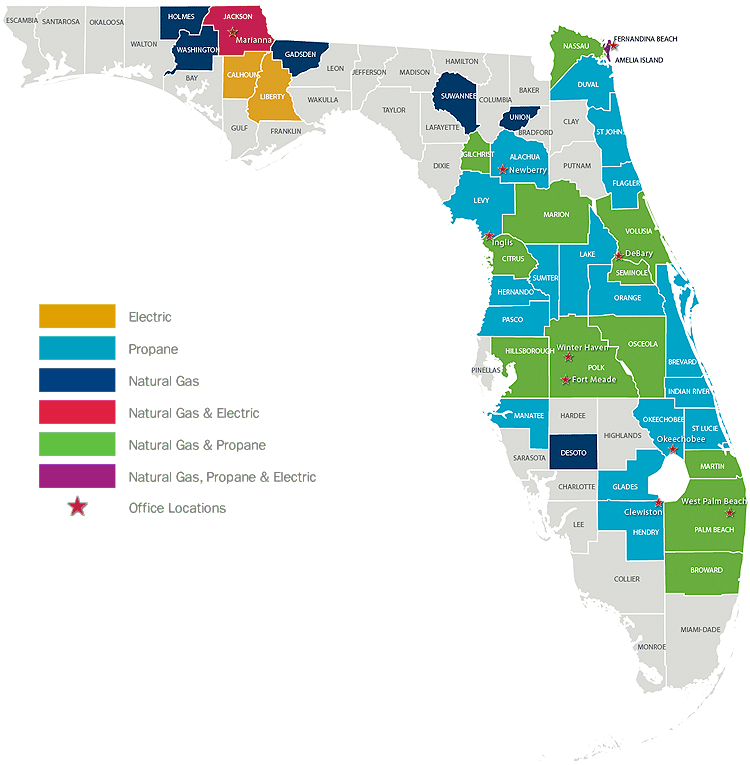 Natural gas comes out of the ground through drilling. It is odorless and tasteless in its natural form. Natural gas is flammable when mixed with just the right quantity of air and when there is a means of ignition. Natural gas travels by pipeline from the well head, through processing and finally to our homes and businesses.
Over the last several years the USA has been able to access natural gas better than ever before. Three technologies have come together to make the USA become the leader of natural gas production. The technologies are:
Horizontal drilling

Hydraulic fracturing

The improvement of the fracturing solution
There are approximately 2.4 million miles of natural gas pipelines in the country delivering gas to nearly every population center. Florida has two major pipelines coming into the state with a third being developed as I write.
Up until now our gas came exclusively from the Gulf Coast from or near Texas. With the shale gas discoveries companies are working on reversing the flow that used to go from south to north, to now come from the shale fields of Pennsylvania to the southeast.
Download the FPU Top 15 Ways to Conserve Energy!
Florida has an expanding footprint of natural gas. Most major cities in Florida have natural gas but only 10% of the residential market has been saturated.
Is Natural Gas Available in Florida? Find Out Now!
There are a couple ways for you to find out if it is available to you. Click here for Florida Public Utilties service area map, this gives you an overall look at which counties we service and provides contact information to speak with an FPU Representative.
If natural gas is not available through FPU, click here and type in your zip code and contact information for your local natural gas utility provider. Then, contact your utility and give them your address; they will be able to tell you if natural gas is available.
8 Ways to Save Money on Your Monthly Utility Bill!
If natural gas is available take advantage of the generous conservation rebates provided by many of Florida's Natural Gas Distribution Companies.
For all your energy related questions, contact your energy experts at Florida Public Utilities.
---
5 Facts About Natural Gas Fuel Lines!