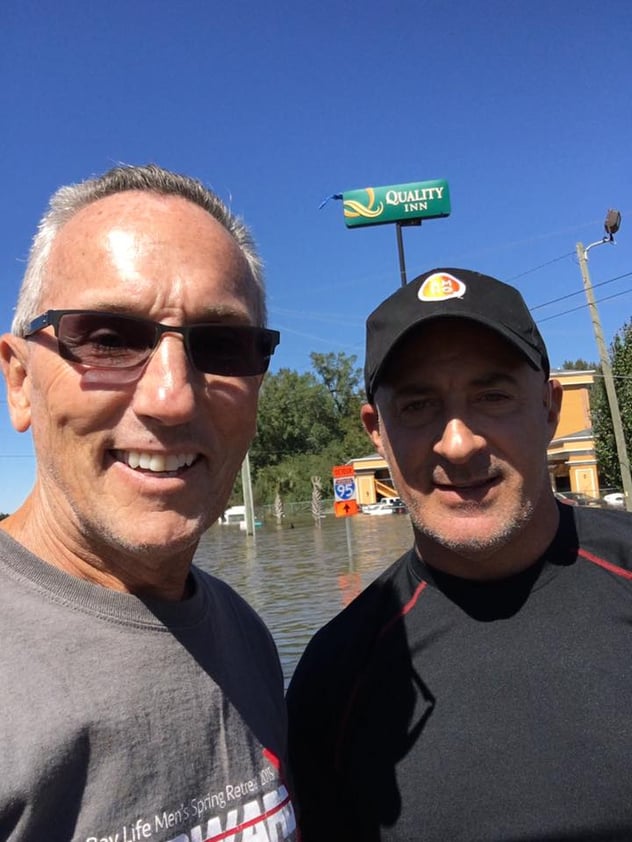 I just returned home from a rain or shine wedding in Virginia Beach. To frame the context of this blog, the evening before my road trip back to Florida, Hurricane Matthew battered the Southeast. A typical 12-hour drive on a Sunday morning turned into an 18-hour adventure. Thankfully, I arrived home safely, and would like to share my experience, and a few storm safety tips, with my readers:
Water, water everywhere but not a drop to drink! Due to devastating flooding, drinking water was contaminated. Fortunately, I always travel with a case of bottled water in my vehicle. All the way down the coast, I heard pleas on the radio for drinking water. Those who found it complained of long lines and unhappy crowds. Most stores were closed, further impacting everyone's desperate need for basic necessities. Note to readers: Always travel with water and remember to stock up on everything you need BEFORE a storm. Obviously, none of the desperate people I heard on the radio thought they would need better preparations. Never make this mistake!
In case you did not know, gas pumps are inoperable without electricity unless they have a generator back-up. After navigating through Lumberton, North Carolina, one of the hardest hit areas, I came close to running out of gas. I stopped at four interchanges but power was out and gas stations were closed, leaving vehicles stranded everywhere. Thankfully, in Florence, South Carolina, I found a gas station with a back-up generator, powered by either natural gas or diesel, enabling me to pump gas in the nick of time! Perhaps back-up power should be required for all gas stations, especially those situated on the coastline. I shudder to think, what might have happened along the entire coast of Florida if we had received a direct impact with Matthew. Millions of people without access to gas, food or water for more than a few days could have been a catastrophe that is unimaginable.
I was temporarily trapped in Lumberton where five hotels, all clustered together at one exit, were flooded on the first floor. One hotel sat on slightly higher ground and appeared like a castle with a moat surrounding it. Of course, there was no power and the scene was eerie! The lobby was dark, an employee behind the counter giving food away to anyone who came in before it spoiled. There were large numbers of people just walking around aimlessly wondering what to do because all roads were impassible. No lights, no air conditioning, no food or water. As if confirmation were needed, it is very clear to me that life without power is miserable.
With cell phone towers knocked down, no service equated to no navigation to help me find a way out of the area. I asked the hotel for a paper map and they laughed, saying no one has seen one of those in years! I will be adding a paper map to my vehicle's emergency kit. Amazon.com can expect my order shortly.
Along the way, I saw utility companies sharing their labor and resources. I saw caravans
of utility workers heading south as I traveled north. I noticed teams of utility workers forging ahead to the next section of the electric grid requiring restoration. I couldn't help but take pride in our industry. My company, Florida Public Utilities, restored power to nearly all of its customers within the first 48 hours, critical need customers regained power even before evacuees were allowed to return home. Utility workers are heroes in my book and should always be treated as such. It's times like these when they really shine.
Interestingly, I was fortunate to meet Jim Cantore of the Weather Channel Hurricane Team in Lumberton. News crews were shooting as search and rescue operations were in full force. Sadly, many people chose to ignore mandatory evacuation orders and I am certain some who ignored those orders have survived. I saw a father loading a canoe with a generator and a case of water to bring to his daughter and grandchildren. They chose to stay and ride out the storm. A nearby river unexpectedly flooded far more than anticipated and they were trapped, three young children included. I also saw more cars than I cared to count strewn along the road from people caught in the storm despite warnings to stay off the roads.
I am so very happy to be home and I am relieved that Florida was spared from a a direct hit. Had Matthew followed the predicted track on land as a category 4 up the coast from South Florida to the Georgia line, the affects could have been devastating. A word of advice, after seeing firsthand what could have happened, ALWAYS be prepared, follow instructions from State and city agencies and make sure you have everything you need to survive for a few days – you may be on your own, so please, take care of yourself!
So long Matthew!