Selecting the optimal farm irrigation system is often a big and important decision—one that can greatly impact a farm's bottom line. Many questions may be considered depending on your individual situation. What is your water source (water quality and quantity)? Do you own or lease your farmland? How much will you spend initially for your preferred irrigation system, and what costs can you expect down the road? The type, size and shape of your crops will also help you determine the irrigation methods you put to use.
Read on to find out how to save up to up to 60% in per gallon fuel costs with a propane irrigation system, and learn why farmers are saying it performs better, and that they're likely to purchase one again.
Did you know Propane-powered technology…
1) Has a per gallon price 60% less than other energy sources
In addition to initial purchase savings, costs are also cut in the operation and fueling of propane-powered technology. At $1.50 a gallon, propane is consumed at a rate of 15 gallons per hour. Fuel consumption, overall, is reduced by 37% when propane is used. If you do the math and compare it to other energy sources, using propane can save the consumer about 60% on the expense of fueling an irrigation system, or an average of $4,000 in operation savings per year.
2) Costs up to 20% less to purchase
900,000 farmers in the U.S. use propane to fuel their irrigation systems. As an efficient and cost-saving source of energy, propane engines can be purchased at 20% less than diesel or gasoline engines. Encouraging the beneficial use of propane, the Propane Educ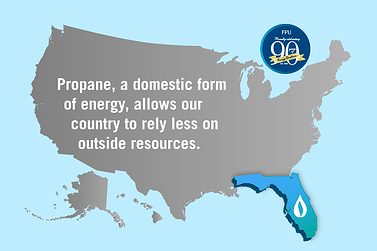 ation & Research Council's (PERC) Incentive Program lowers the initial cost of purchasing a new Environmental Protection Agency (EPA)-certified propane irrigation unit for qualified participants. Click here for more information regarding agriculture programs and incentives.
Agricultural propane customers could receive an incentive of up to $5,000 for each piece of propane-powered farm equipment purchased, such as irrigation engines, mowers and standby generators. Recipients of the incentives agree to share real-world performance data with PERC, which aids the Council in future product development.
To view eligible propane irrigation equipment, click here.
3) Decreases irrigation engine maintenance costs
With fewer fuel deposits left behind, clean burning propane irrigation engines require fewer oil changes. Because the oil stays clean longer, maintenance occurrences are less frequent, leading to lower costs.
4) Insures reliable irrigation without grid-related power interruptions
If a power outage or interruption is experienced during a storm, or in the case of a natural disaster, day-to-day operations aren't at risk of grid failures. Propane-powered irrigation systems insure that substantial loss in productivity and revenue are avoided. You have the ability to irrigate when you want without having to worry about brownouts or blackouts—so utilizing propane as your fuel adds an important extra level of performance trust.
5) Reduces greenhouse gas emissions up to 24%
By switching to EPA-certified models, greenhouse gas emissions are reduced by roughly 11% compared to diesel systems, and an even higher 24% compared to gasoline systems. With engines powered by propane, a "clean" fuel, our air quality is made better as harmful fuel emissions are suppressed. Reliable EPA and CARB emissions certification models are readily available, with maintenance and service included. With certified models in use, propane irrigation system energy conservation regulations are met.
Become a part of the clean-burning energy movement that hundreds of thousands of U.S. farms are using when you switch to propane-powered irrigation.