If you live in our region, you know. The memory of past hurricanes may seem unfortunately too recent to many, but it's always wise to brush up on hurricane preparedness basics.
There is no shortage of hurricane forecasts and preparedness tips available that it can be hard to know how to get your home and family in hurricane-ready shape.
Hurricane Season 2019 is June 1 through November 30. Here at FPU, we are here to help answer questions, clarify your hurricane season concerns and help you prepare.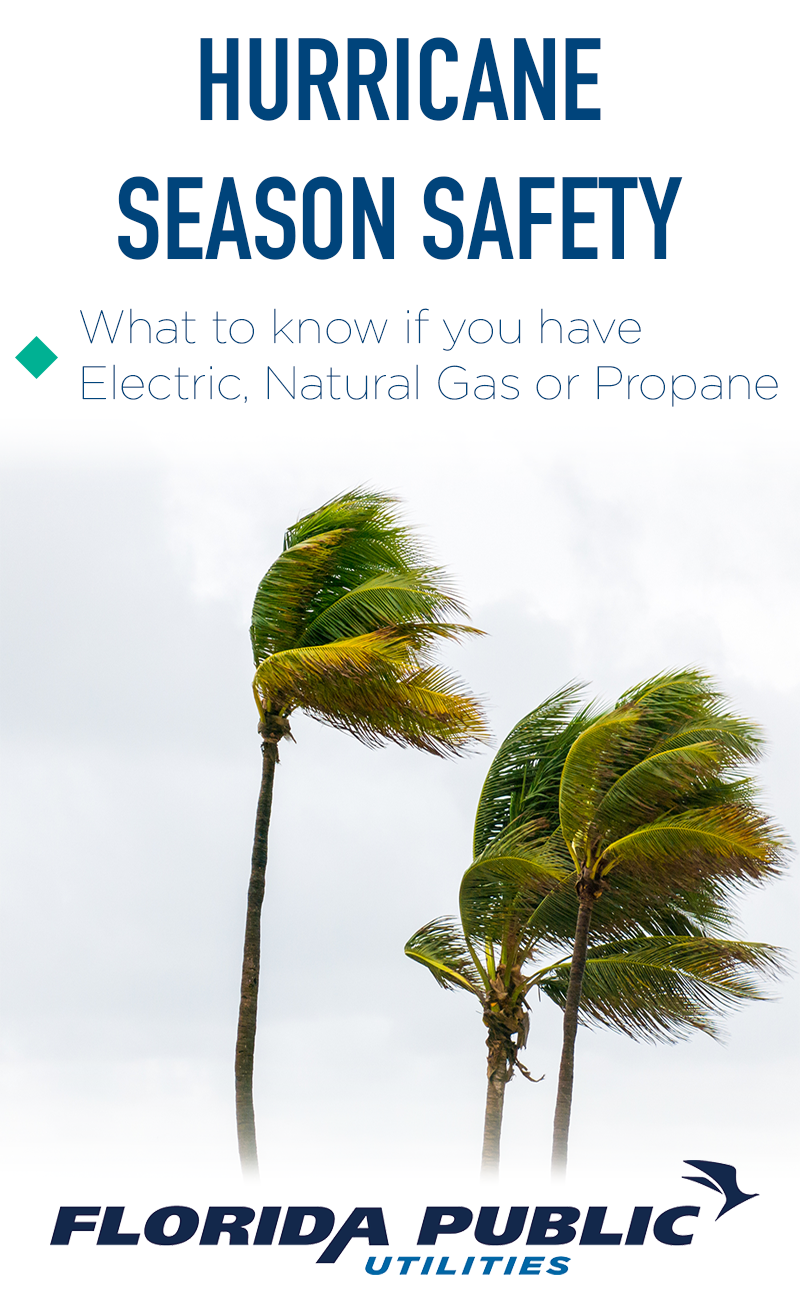 Hurricane Readiness 101
Stock Supplies: You will need to keep these handy and in one place:
Bottled water
Canned or boxed non-perishable food items -- ideally up to seven days' worth
Flashlight and workable batteries in every room of your home
Battery-operated TV or radio to keep up with forecasts
A first aid kit and a week's supply of any needed medications
An emergency blanket
Disposable kitchen items (e.g., paper towels, plates)
Any supplies for babies and young children (diapers, bottles, formulate, etc.)
Candles and matches
Extra cash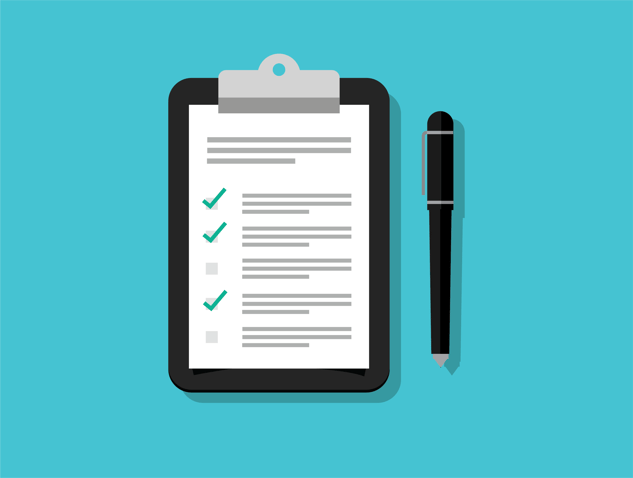 What is your phone situation? If you do have a landline, you will want to consider having a corded phone around; unless there is an electricity outage. This will be more reliable than a cell phone or cordless landlines that can quickly run out of batteries. If you are relying on your cell phone, keep it charged and on battery saver mode when signs of a hurricane begin.
When it is clear a storm is brewing…move any outdoor items indoors. Choose a room in your home on its lowest level as the room where you will gather. Close and secure all doors and windows.
During the storm...Stay inside and as far away from windows, skylights and glass as possible.
Electricity: What to know
The electricity practices we encourage all year round at FPU are critical during hurricane season. We have important facts on electric safety.
When you know a storm is coming… (Remember: F.P.U.!)
- Find Backup for any critical equipment, particularly if you have a family member who relies on an electric-powered medical device.
- Power Line Check Learn where the power lines near your home are located and make sure any antennas or your satellite dish is not near them.
- Unplug every outlet -- computers, televisions -- all of it. Make sure you turn off the appliances first!
During the storm: Keep in mind that using electricity-- including phones -- can be a risk if the storm is severe. Use sparingly.
After the storm passes…

Don't use any appliances that may have been flooded or water damaged
And remember, should you come across a downed power line, always assume all power lines are active and report it to us immediately at 800.427.7712
**If there is damage to your electric service, reference the diagram HERE to see the FPU and customer repair responsibilities.
Natural Gas, What to Know
It is not likely that your natural gas service will be interrupted in severe weather, but if it does happen, do not attempt to turn the natural gas back on. That's what FPU is for. Call us when the storm is over, and we will reconnect it, as well as inspect appliances and relight pilot lights.
To turn off, or not to turn off?
Leave your natural gas supply on in the event of an evacuation. Do not shut the supply off yourself or at the meter; only authorized utility or emergency personnel should do this. However, you can turn off the natural gas at your individual appliances if you find the valve located behind the equipment.
**If there is damage to your natural gas service, reference the diagram below to see the FPU and customer repair responsibilities.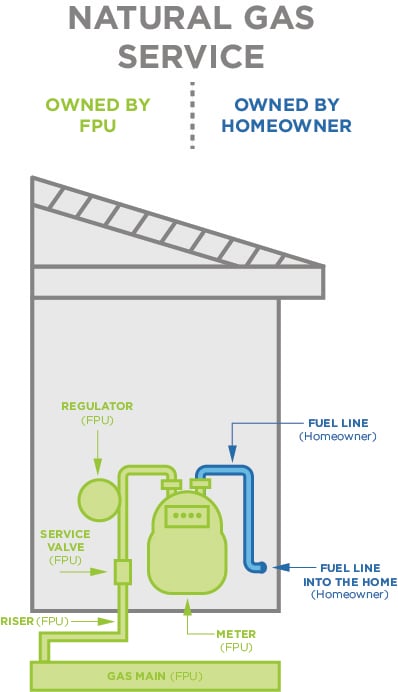 Propane, What to Know
If you have propane-powered appliances in your home, such as a gas range or hot water heater, you should still be able to use them when the electricity is out. DO NOT shut off your propane supply if you have to evacuate due to a storm. Read more propane safety tips for before, during and after the storm.
**If there is damage to your bulk or metered propane service, reference the diagrams below to see the FPU and customer repair responsibilities.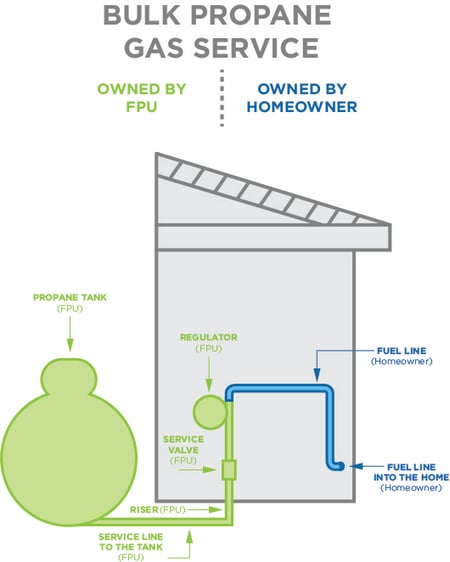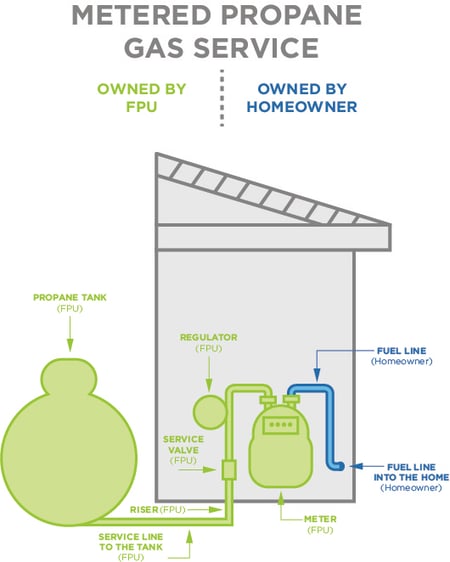 We are Here for YOU!
Be ready. Be prepared. Be safe.
Florida Public Utilities is committed to keeping our customers informed. That is why - should a storm occur - we offer 24/7 hurricane updates, including projected estimated restoration times at FPUC.com/Prepare, as well as our Facebook page.